DOOR COUNTY — If you're looking for places in northern Door County to enjoy some delicious wine tastings, then this list is for you.
I've reviewed my favorites at each winery to get you started, but the fun is in the exploration.
The order of this list is just my favorite way to see every winery — starting in Sturgeon Bay and heading north — but you can feel free to do it the opposite order if you're heading out of Door County or in whichever order you'd like.
Spread your visits out over multiple days or even multiple visits to Door County.
Note: If you are worried about driving after going to the wineries, Door County Trolley, Inc. offers a Premier Wine Tour that stops at five of the seven wineries on this list.
1. Door 44 Winery DIRECTIONS
(Just north of Sturgeon Bay): Door 44 Winery is a stand-out on this list because of their beautiful new building with a wide open interior and large retractable doors that let the fresh air in. Their specialty wines also help set them apart from other wineries. If you are visiting with a group larger than 8 people, you should contact the winery a day beforehand to schedule a visit. If you decide to do a tasting, my personal favorites are their F2 and Red Door, but you also can't go wrong with any of their Frozen Tundra wines.
.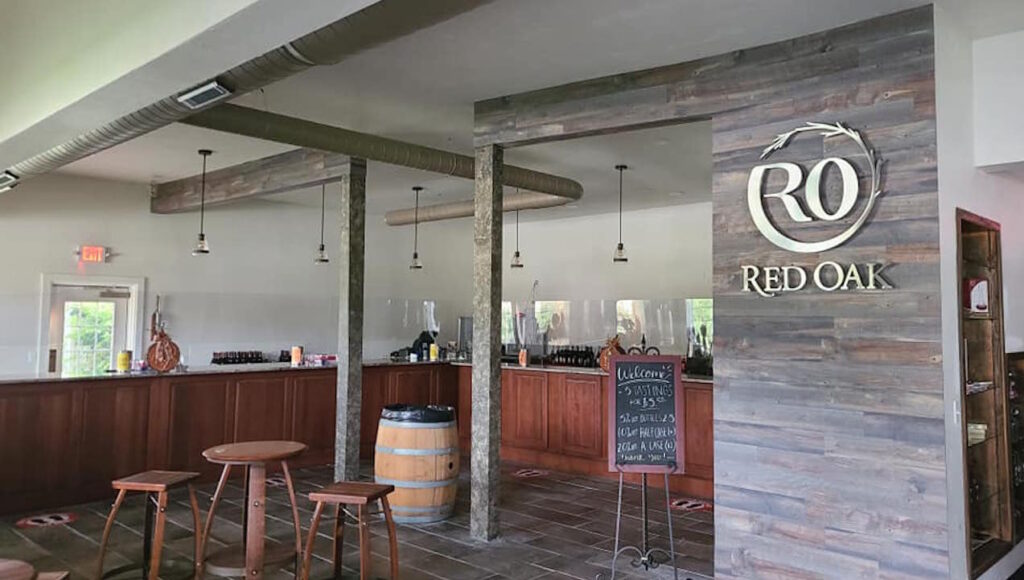 2. Red Oak Winery DIRECTIONS
(North of Sturgeon Bay in Carlsville): Red Oak has a welcoming and casual feel and a very nice tasting room. It's conveniently located right off of Highway 42 and shares a plaza with Door County Coffee and Tea Co, which offers a selection of delectable sandwiches and coffees. My favorite wines are their Tempranillo, Mystic Red and Dirty Nick. If you decide to try Dirty Nick, a smooth and delicious port, watch out because it's quite potent.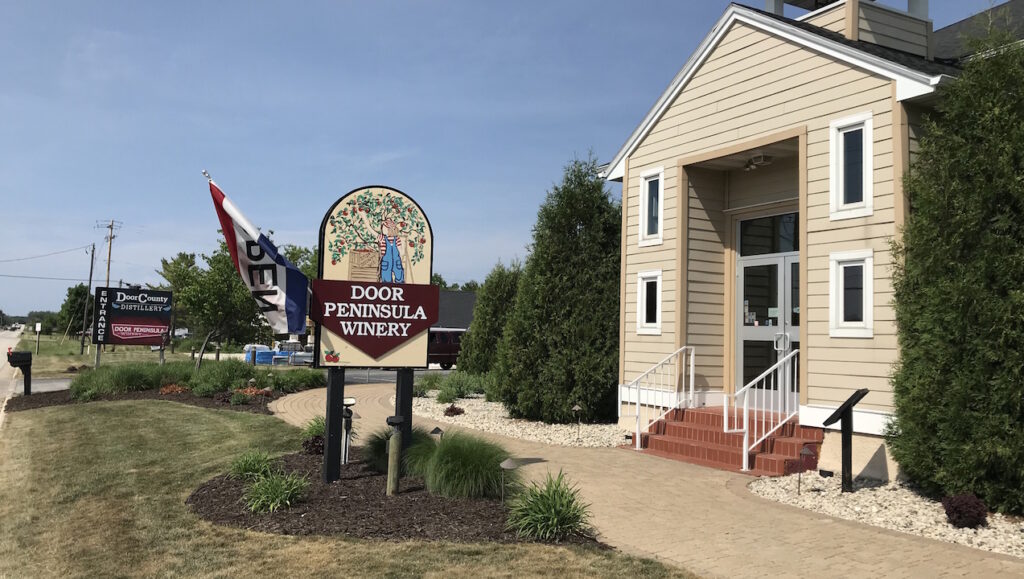 3. Door Peninsula Winery DIRECTIONS
(North of Sturgeon Bay in Carlsville): Door Peninsula Winery has a huge selection. From reds to whites to fruit wines, this winery has an abundance of flavors ranging from dry to sweet. It would be hard to find something from this winery that doesn't suit your taste. If you decide to do a tasting, my personal favorite is Blackberry Merlot but if you are looking for something a little heavier and more dry try Chaos Red, Sinister and Redemption. If you are new to wine or looking for something on the sweeter side I recommend Sunset Splash, Plum Loco, Hallowine or really any of their fruit wines. As an added bonus, something that sets this winery apart from the rest is that if you're with someone who isn't a big fan of wine, they have Door County Distillery in the same building. To top it off there is a section showcasing olive oils and other products from Fat Louie's Olive Oil Co.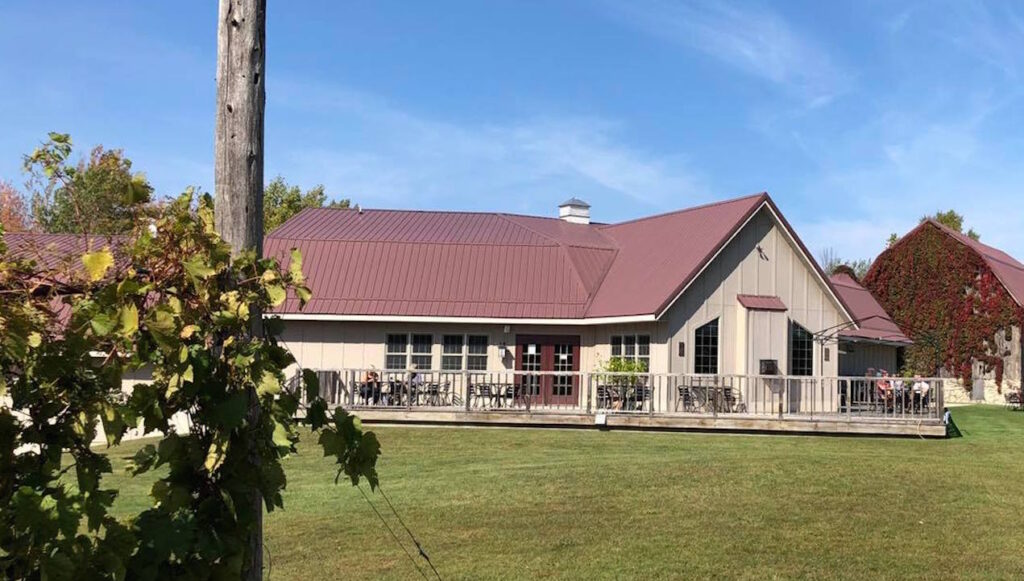 4. Simon Creek Vineyard & Winery DIRECTIONS
(North of Sturgeon Bay and east of Carlsville): Even though Simon Creek is located only a few minutes off of Highway 42 it has the feel of being very secluded and spread out. They have a beautiful big deck and sprawling grounds. They even offer live music on Sundays. My favorite wines are their Untouchable Red and Hazelnut Port–it's delicious. If you're the type of person who likes to make drink concoctions, people say that if you mix their Door County Cherry wine and Chocolate Port (2 parts Door County Cherry, 1 part Chocolate Port) it tastes like a chocolate covered cherry!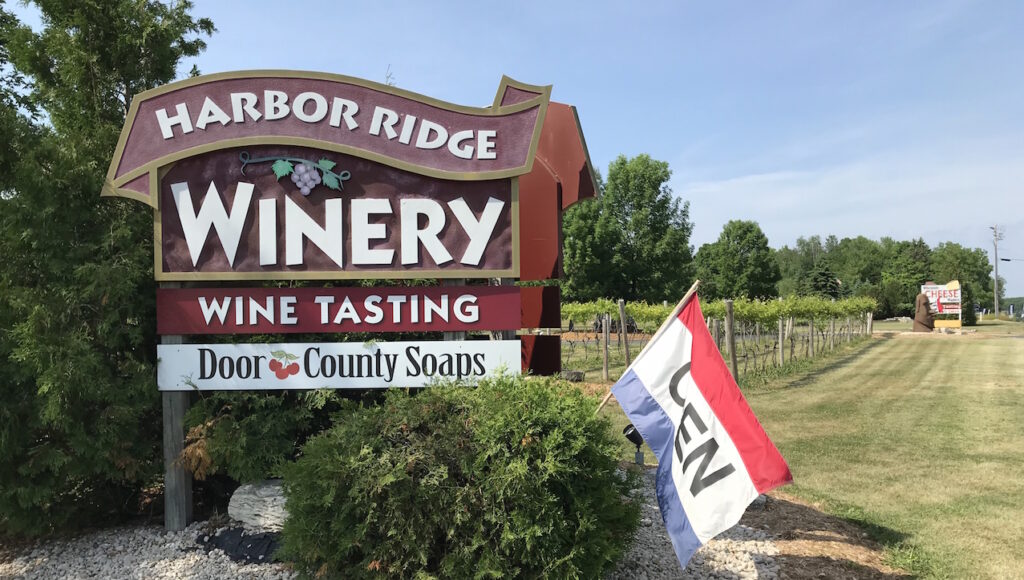 5. Harbor Ridge Winery DIRECTIONS
(Egg Harbor): Harbor Ridge Winery is memorable not just for the giant Easter Island heads at the front of their property, but also for the names of their delicious wines. My favorites are their What the Heck? Malbec, Call Me a Cab, and Knockin Heads Red. If you are looking for sweeter wines, I would suggest trying their Give Me One Good Riesling or Carmen's Last Dance. Harbor Ridge is located right next door to Wisconsin Cheese Masters, so it's very easy to turn your wine tasting into a wine and cheese tasting.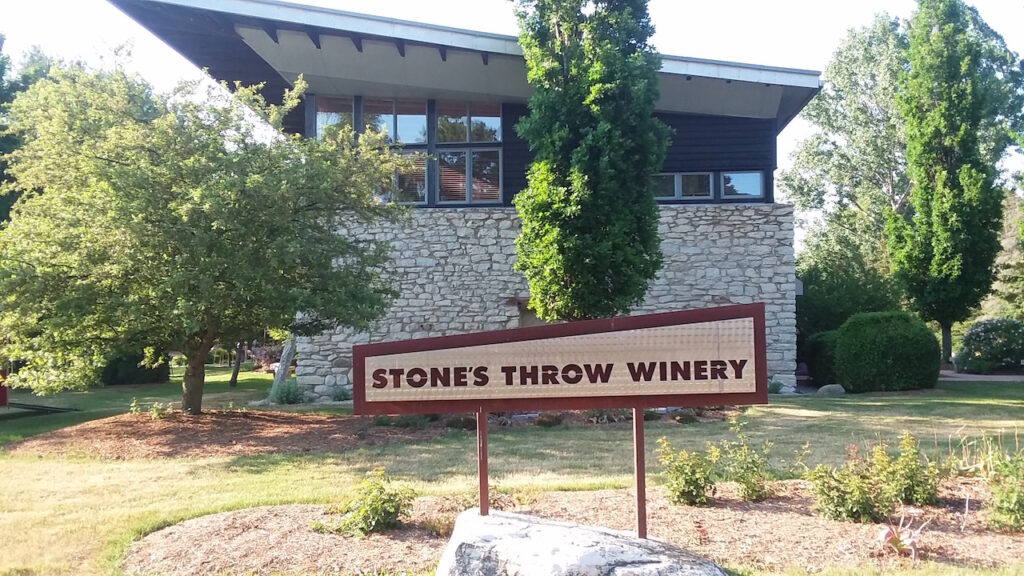 Stone's Throw Winery DIRECTIONS
(Baileys Harbor): Stone's Throw is unique because it's the only winery that has a restaurant on the same grounds. Vino! Vino! is billed as a Tuscan wine and tapas bar. This is the perfect winery to go to whether you are just starting or about to finish your Door County wine tasting trek, so you can get some food in your system. My favorite wines offered are their Fat Chef and Russell's Reserve, and I would definitely suggest that everyone should try their Angelique Sparkling Wine. It is absolutely delicious!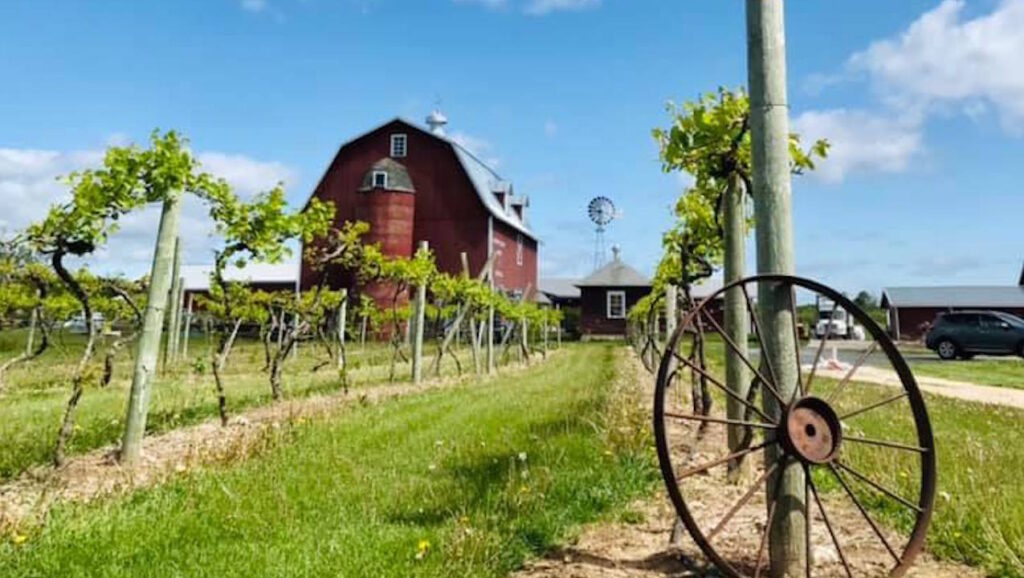 Lautenbach's Orchard Country Winery & Market DIRECTIONS
(Fish Creek): Lautenbach's is definitely the most family friendly out of the wineries. If you're looking for a single winery to go to on your trip with your family, this is the place I would suggest. My favorite wines that they offer are their Blackberry Bliss, Celebrate, and Nathan John, one of a couple of their wines that they offer that are named after the owner's grandchildren. For non-wine drinkers, they also offer hard cider. Not only do they offer delicious wines and ciders, but they are attached to a market that offers anything cherry that you can think of as well as tasty soup and dip mixes. They is also a fully functioning cherry orchard, so you really can't go wrong if you stop here as part of a family outing.
Did we miss a winery you'd like added to the list? Email the author at crenguette@doorcounty.newztream.com
CLICK for more Door County Day Trips
Follow us on Facebook: PAGE I GROUP