UPDATE — Town of Bailey's Harbor residents approved a plan Tuesday to purchase the former Nelson Shopping Center and preserve the property as a public green space.
The vote to approve was 255-32, according to a Facebook post from the town.
"There are contingencies that protect the town but overall this is a great step forward," read the post.
******************
BAILEYS HARBOR — Town residents are expected to vote Tuesday on a purchase plan for the former Nelson Shopping Center along the lakefront near the marina.
The annual meeting for the Town of Baileys Harbor will be held on Tuesday, April 20, 2021 at 6 p.m. in the truck bay of the Baileys Harbor Fire Station, 2404 Park Road.
A meeting of town residents age 18 and older is required by state statute the second Tuesday of April. AGENDA
Ahead of the vote, a committee has been put together to raise pledges for the purchase and renovation of Nelson's Shopping Center, the adjacent garage and two boat slips.
A fund, called the Baileys Harbor Open Space Preservation Fund is being established at the Door County Community Foundation in order to make all donations a charitable contribution, according to the Friends of Bailey's Harbor in a Facebook post.
Donors would help ensure that this centrally located property can become open green space for the community to enjoy for many generations to come.
The fund would create a public/private partnership between those citizens that care about preserving and investing in the Town of Baileys Harbor and the public funds and resources of the town itself, according to the news release.
This is an opportunity to help offset the cost for the Baileys Harbor community and taxpayers.
The goal is to raise at least $1.1 million, with $600,000 towards the purchase of the property and $500,000 for the creation of a park and an extension of the marina.
Friends of Bailey's Harbor has initial pledges of $280,000.
The committee currently is accepting pledges only until Tuesday's vote.
Those interested in making a pledge/donation, pledge forms like the one below can be photographed or scanned and emailed to David Eliot – dsteliot@ppulse.com. If that is not possible, they could be dropped off at the Peninsula Pulse office or mailed to:
Baileys Harbor Open Space Preservation Fund CO Peninsula Pulse 8142 State Highway 57 Baileys Harbor, WI 54202
More information about this endeavor can be found on the Baileys Harbor, Door County Facebook page HERE.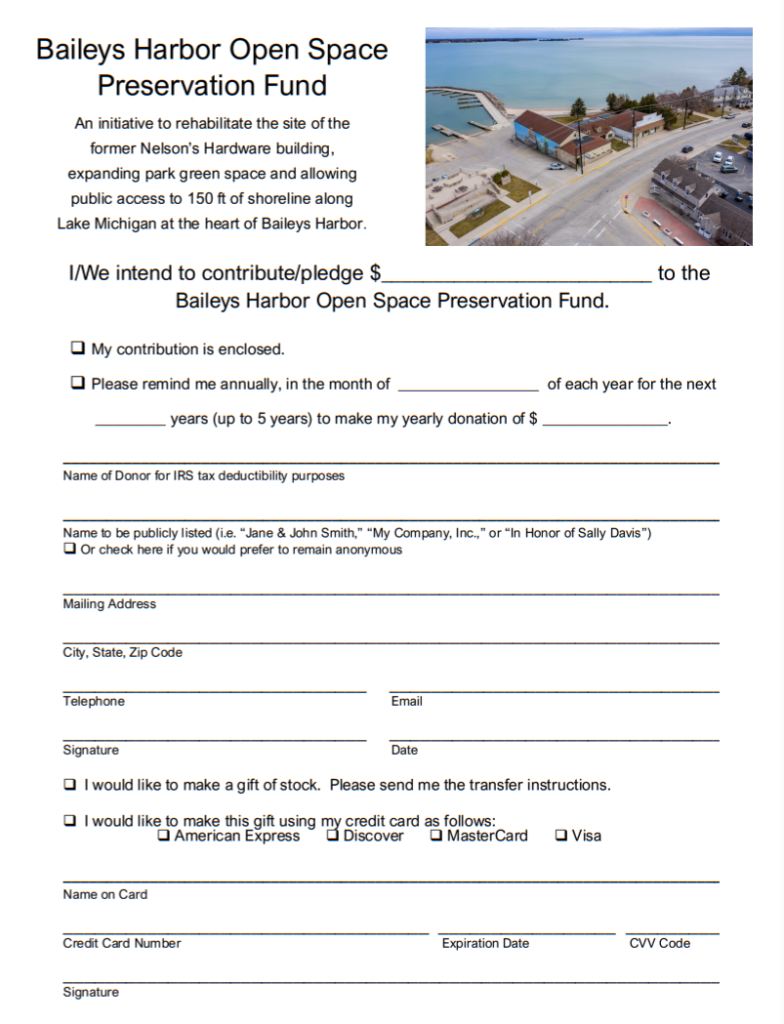 .
Follow us on Facebook: PAGE I GROUP